NIALL GRANT
We regretfully inform our members of the passing of our dear friend and esteemed member Niall Grant (Belfast) who died on 4th May 2008. For many years Niall travelled with the group to the former battlefields and memorials of the Western Front in honour of three great uncles who died during the First World War.
| | | |
| --- | --- | --- |
| | | |
The following is an extract from the Belfast Telegraph in 1917
BELFAST WIDOW'S WAR SACRIFICE
As a result of the recent death from wounds received in action of Private Thomas D. Flanigan, Leinster Regiment, Mrs Flanigan, widow of the late Mr. Patrick Flanigan, of Crown Hotel, Great Victoria Street, Belfast, has lost the last of her four sons, all of whom died since the war began- three sacrificing their lives in the service of their country. Mrs Flanigan's first loss was the death, on Christmas day 1914 of her son William, who assisted her in the conduct of her business. The other three sons who were in the army were also nephews of Mr. William Hughes J.P. Director, Messers Keegan and Co., Stranmillis Road, Belfast. Deep sympathy is felt with the bereaved mother in a painfully heavy series of trials she has undergone.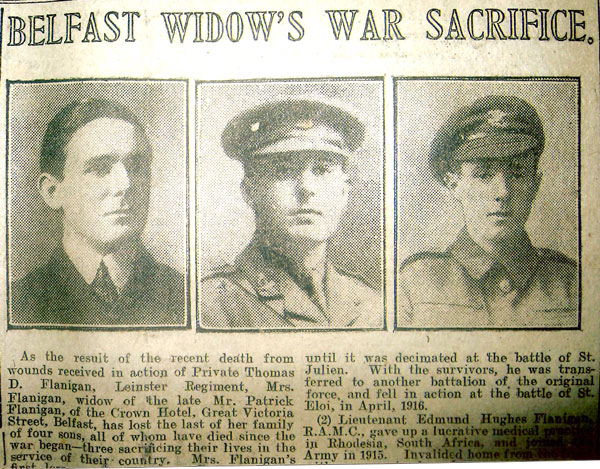 (1) Private Gerald Flanigan, Canadian Infantry, joined the First Canadian Expeditionary Force at Regina, where he was attached to the surveyor's department of the municipality as an architect. He arrived in France in 1915, and fought with his battalion until it was decimated at the Battle of St. Julien. With the survivors he was transferred to another Battalion of the original force, and fell in action at the Battle of St. Eloi in April 1916.
(2) Lieutenant Edmund Hughes Flanigan, R.A.M.C., gave up a lucrative medical practice in Rhodesia, South Africa, and joined the Army in 1915. Invalided home from the front line with pneumonia, he subsequently passed away at his mother's residence in Belfast in June 1916.
(3) Private Thomas Dominic Flanigan, Leinster Regiment, was killed in action on 18th November 1917. He joined the Army early in 1915 at the age of 17. He had extensive field service until after the death of his brother Gerald when he was transferred to base. Importuning for active service, he was transferred to the line again several months before he died. He had only just returned from home leave about a month before he made the supreme sacrifice, being the youngest of his mother's sons.
Copyright 2006-21 © Friends Of The Somme Mid Ulster Branch